Frequently Asked Questions
Why is single origin maple syrup so important?
Maple syrup comes from maple trees, the sap produced by these trees vary according to the soil, terrain, weather and harvest time as well as syrup making process. Maple syrup is therefore unique with each batch and producer, with a specific taste and texture.
Mixing or blending maple syrup from different producers dilutes that very special character that each producer has worked so hard to refine.
How is it made?
In short, maple syrup is produced from the sap of maple trees which is harvested between February and April. The harvested sap is evaporated in a 'sugar house' until the wanted viscosity is reached and then bottled.
Check out the 'Hand Crafted' page which attempts to convey in more detail the dedication and hard work that goes into every bottle of this natural elixir.
How do I store Maple Syrup after opening?
Once opened, Maple Syrup should be stored in the fridge and keeps for many months. For long term storage (really?!), the Vermont Sugar Makers Association says that maple syrup retains its flavor best when kept in the freezer (it will not freeze solid).
Maple Cream should always be kept in cool and dark place. Separation of some syrup in the cream is natural, just stir before each use. You can also freeze it.
Maple Sugar can be kept in a cool and dry place.
Is Maple Syrup Vegan?
Yes. All of maple syrup from the Maple Store is Vegan.
BEWARE: This may not be the case for other maple syrups which use non-Vegan / Chemical defoamers.
How do you ship?
All orders are shipped with Swiss Post (CH) and DHL (EU only), packaged with cardboard cushions, love and care.
Where do you ship?
We ship to Switzerland and Europe. If your country is not listed, please contact us and we can arrange shipping.
When will you ship?
We ship within two business day for Swiss Orders and within week for EU Orders, depending on volume of orders. Rest assured though, we will do our best to get delicious maple syrup to you as soon as possible.
Other requests?
If you have a need for an express order or any other specific instructions, let us know in the order 'Additional Information'.
Feel free to get in contact with us, we are very happy to help.
Maple syrup is great with everything!
Solo or as a combo, make something delightful from Maple.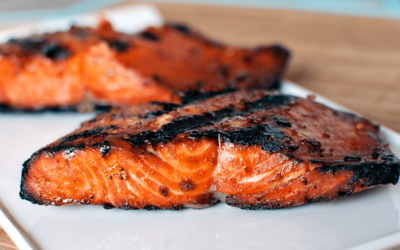 Very simple yet amazingly delicious, a kind of 'Asia  meets Vermont' dish. Amounts are not included, just let your taste guide you! Place salmon in bowl, add Soy Sauce and Sugar Bob's Finest Beech Wood Smoked, make sure salmon is fully coated coated Pre-heat...
We are proud to be able to bring you the fruit of their hard work, innovation, care and dedication, enjoy only the best maple syrup.
Maple Store is a proud member of the Vermont Maple Sugar Makers' association.